Schedule a Free Consultation With a Top Child Injury Lawyer in Connecticut 
At Etemi Law, our Connecticut child injury attorneys are skilled, experienced, and compassionate advocates for young victims. We understand the children are uniquely vulnerable and our attorneys are well-versed in the specialized rules and regulations that apply to child injury claims. If your child suffered a serious injury in an accident, we are here to help you navigate the legal claims process. Contact us today for a free, fully confidential initial consultation with a top child injury lawyer in Connecticut.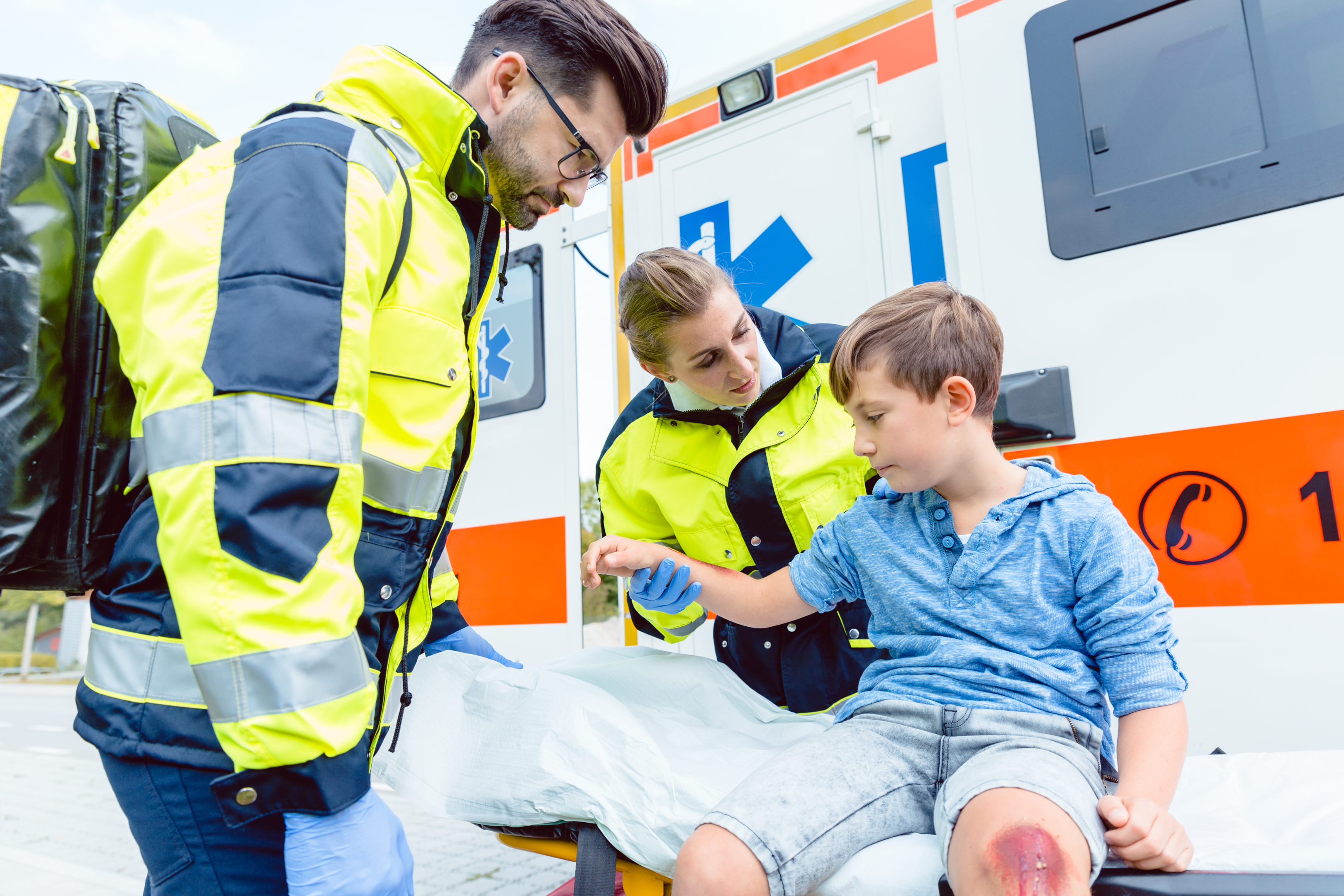 Childhood is a time of curiosity and exploration, but unfortunately, accidents can happen that result in injuries. These injuries can range from minor bumps and bruises to more severe trauma, including a traumatic brain injury accident. When such incidents occur due to negligence unintentional injury or misconduct, it's crucial to seek the assistance of a dedicated Hartford child injury lawyer who specializes in handling cases involving child injuries.
Pursuing Justice Through a Personal Injury Claim for Child Injuries
When a child sustains a severe injury due to someone else's negligence, a personal injury claim may be necessary to seek justice and compensation. Personal injury lawsuits in the context of child injuries differ from those involving adults. Injury cases demand a deep understanding of both the legal system and the unique aspects of a child's injuries and development. A skilled personal injury lawyer can navigate these complexities to ensure the best possible outcome for the child and their family.
For parents, there are very few experiences that are more challenging to endure than a child's injury in a serious accident. It is imperative that your child receives immediate medical attention and all of the other resources that they need. You should consult with a child injury lawyer near me as soon as possible after a serious accident. At Etemi Law, we handle the full range of child injury claims. Some of the most common accident that results in injuries to children in Connecticut include:
Car crashes;
Truck accidents;
Pedestrian collisions;
Slips and falls;
Dog bite injuries;
School injuries;
Dangerous and defective products; and
Medical malpractice.
Child Passengers: Unique Challenges and Concerns
Car accidents can lead to a range of severe injuries, from broken bones and internal injuries to traumatic brain injuries and spinal cord damage. These injuries not only cause physical pain but also emotional distress for both the victims and their families. When children are involved, the situation becomes particularly heart-wrenching, as their vulnerability amplifies the need for comprehensive recovery efforts.
Child passengers are especially susceptible to injuries in car accidents due to their smaller size and developing bodies. Injuries sustained at a young age can have lasting effects, potentially impacting their growth and overall well-being. Recovering from such incidents requires proper medical attention, therapy, and support to ensure the child regains their health and quality of life.
Child recovery after a car accident involves not only physical healing but also emotional and psychological support. Children may experience fear, anxiety, and trauma following such incidents. It's crucial for parents and guardians to seek professional assistance, both medical and therapeutic, to help child recover and regain a sense of normalcy.
Advocating for Justice in Car Accidents
The legal complexities of a car accident case can add to the stress of an already challenging situation. However, personal injury lawyers often offer their services on a contingency fee basis. This means that families don't need to worry about upfront legal fees; the lawyer's payment is contingent on the case's success. This approach ensures that families have access to professional legal support without adding financial strain to their burdens.
Child passengers who suffer injuries in car accidents deserve justice and compensation to aid in their recovery. A personal injury lawyer's role is to advocate for these young victims, ensuring that their rights are protected and that they receive the necessary resources for their physical and emotional healing.
Unintentional injuries resulting from car accidents are preventable, and legal recourse is available for those affected. Through personal injury claims, families can seek compensation to cover medical expenses, ongoing care, and the pain and suffering endured. This legal action also serves as a means of preventing similar incidents in the future.
Special Considerations in Child Injury Cases in Connecticut
There are specialized rules and regulations that apply to child injury claims in Connecticut. A child injury attorney near Hartford, CT can help you and your family navigate the complexities of the legal claims process. Here are some of the key points to know about child injury cases:
The Defendant May Owe a Greater Duty of Care to a Child: To prove liability in a Connecticut personal injury claim, the plaintiff must establish negligence. Defendants sometimes owe a more comprehensive duty of care to children.
The Statute of Limitations Provides for an Exception for Minors: For most personal injury cases in Connecticut, the statute of limitations is two years. However, there is an exception for minors. A child may be able to bring a claim until they are 20.
A Court May Be Required to Approval a Child Injury Settlement: Parents have the legal authority to initiate a personal injury claim on behalf of a child. In most cases, a court will need to approve of any settlement to ensure it protects the child's best interests.
Calculating Damages Can Be More Challenging: Families have the right to pursue full and fair financial compensation on behalf of their child, including for all medical bills, future medical costs, pain and suffering, and loss of earning potential.
The Complexities of a Personal Injury Lawsuit
Child injury claims involve a set of complexities that distinguish them from other personal injury cases. As minors, children cannot legally represent themselves in court, which means that a parent, guardian, or appointed representative must act on their behalf. Additionally, the concept of negligence can differ when applied to children, as their actions and behavior are assessed in the context of their age and development.
Child injuries can have far-reaching consequences, both immediately and in the long term. Some injuries might not manifest their full effects until later in a child's life, making it essential to anticipate these potential outcomes when seeking compensation. A skilled child injury lawyer works closely with medical experts to understand the full scope of the injury's impact, ensuring that no aspect is overlooked when building a case.
Seeking Compensation for Severe Child Injuries
Severe child injuries can result in extensive medical treatments, rehabilitation, therapy, and ongoing care. Families often face overwhelming emotional and financial burdens in such situations. A personal injury lawyer experienced in handling child injury cases recognizes the urgency of securing compensation that covers both immediate and future needs.
Successfully pursuing compensation for severe child injuries requires a comprehensive approach. A Connecticut child injury lawyer gathers evidence, consults with medical professionals, and consults experts who can accurately assess the long-term impact of the injury. This multi-faceted strategy ensures that the child receives the support they need throughout their recovery journey.
Contact Our Connecticut Child Injury Lawyers Today
At Etemi Law, our Connecticut child injury attorneys are compassionate, experienced advocates for justice. If your child was hurt in any type of serious accident, it is imperative that you have strong legal representation. Contact us today to set up a free, no obligation initial consultation. From our law offices in Waterbury and Watertown, we handle child injury claims throughout Connecticut, including in Hartford, Bridgeport, and New Haven.
What People Say About Us
Our Reviews
The customer service was phenomenal and was able to answer all my questions and concerns!
Etemi Law has professional experience and serious work ethic I would highly recommend in selecting a lawyer.
Communication, always answering phone calls, always there for any questions no matter what, Etemi Law exceeded my expectations!!
Ron and Lou are terrific attorneys and care a great deal about their clients.  I strongly recommend them for car accidents and other personal injury matters.
Hiring Attorney Etemi was life changing. He put my best interests at the forefront, working tirelessly to ensure that I was treated fairly and always informed. Ron was everything you want an attorney to be, and nothing that you don't. He was thorough, insightful, methodical, informed, collaborative, and deeply passionate about my case. I do — and have — recommend(ed) Ron Etemi and Etemi Law without reservation.
Etemi Law is exceptional. Attorney Ron and Lou Etemi represented me in a very difficult accident case. We won! Etemi Law delivered.
I strongly recommend Etemi Law. Ron and Lou are the best in Connecticut. Thank you, Ron and Lou, for everything that you did for my case.
Ron handled my personal injury case from beginning to conclusion. From my personal experience, Ron is by far one of the best injury lawyers in Connecticut.
I highly recommend Etemi Law! They know the law inside and out and won't just settle until their clients are provided with what they deserve.
Thank you to Lou and his team for all their help in a time of need. I highly recommend his services.
Ron and Lou's negotiation and litigation skills are unmatched, and they are highly respected amongst their peers and the community at large.
Etemi Law was phenomenal since the first day we called them for help and delivered great results.
Ron and Lou are absolutely amazing at what they do.
Best in the business. They treat you like family and get results!
Two of the most aggressive attorneys I have ever met.
I highly recommend Etemi Law!
They communicated with me through the entire process . . . They are amazing at what they do!
A law firm that will give you results and treat you like family.
The Etemi brothers are the real deal.
You will not find representation better than Ron and Lou.
There is no law firm better then Etemi Law.
Great attorneys, down to earth.
These guys are the best in CT.
Ron Etemi is a guiding light for our family.
The communication was beyond excellent.
Attorney Lou Etemi is a fighter! He fights for everything his clients deserve.
View All
Our Firm Office Locations
Find Us